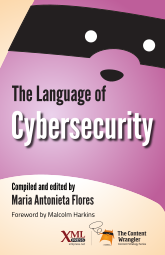 The Language of Cybersecurity
edited and compiled by Maria Antonieta Flores.
$25.95 (print) $19.95 (Ebook).
The Language of Cybersecurity defines 52 terms that every business professional should know about cybersecurity, even professionals who are not specialists. Anyone who uses any kind of computing device needs to understand the importance of cybersecurity, and every business professional also needs to be able to speak intelligently with cybersecurity professionals.
Expertly compiled and edited by Tonie Flores, this book is an essential reference for cybersecurity experts, managers, students, and anyone who uses a computer, tablet, smart phone, or other computing device.
Inside the Book
The Language of Cybersecurity is a collaborative effort with fifty-two expert contributors, all known for their depth of knowledge. You will probably recognize many of their names, and you will probably want to learn more about the ones who are new to you. Each contributed term has a concise definition, an importance statement, and an essay that describes why business professionals need to know that term.
The Language of Cybersecurity looks at vulnerabilities, exploits, defenses, planning, and compliance. In addition there is a glossary that defines more than 80 additional terms. For those who want to dig deeper, there are more than 150 references for further exploration.
Terms are grouped into five categories:
Vulnerabilities: The weaknesses that can leave you open to attack
Exploits: How cybercriminals attack your systems
Defenses: How you can defend your systems against attacks
Planning, Management, and Controls: Tools for mounting an effective defense against cybercriminals
Compliance: Both core principles you should follow as well as regulations and rules you must follow
About Maria Antonieta Flores
Tonie Flores has guided business and systems professionals through the complexities of selecting and implementing leading-edge information processing solutions. Her work as a systems engineer, instructor, change management specialist, and technical writer has benefitted information technology users from the shop floor and back office through the C-suite in the United States, Latin America, and Asia.
Tonie's work has earned speaking and technical writing awards and the honor of Associate Fellow of the Society for Technical Communications (STC).
What are They Saying?
"Language is a form of art, and when studied, it is a science. The Language of Cybersecurity threads the needle between them, using experts to define and explain the importance of key terms. This book is useful to anyone – from security experts to business professionals"
— Malcolm Harkins, Chief Security and Trust Officer, Cylance, Inc.
Book Extras