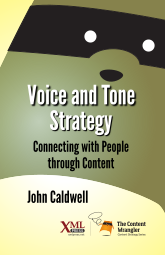 Voice and Tone Strategy: Connecting with People through Content
by John Caldwell.
$24.95 (print) $19.95 (Ebook).
Buy ebook at the XML Press eBook Store
Connections. We all want them. We seek them in our everyday lives, in our relationships with people, places and things. Emotion is at the heart of any meaningful connection, and how we talk to each other taps into it. Our character, brought to life through our voice, is the most powerful tool we have to connect with people, especially when it comes to connecting on an emotional level.
In the past, a transactional relationship with customers was sufficient. A simple experience that delivered a clear benefit, such as extra money in their pocket or the easy completion of a task, was all you needed to satisfy and retain existing customers. But times have changed. Today, more than ever, consumers gravitate toward—and increasingly crave—meaningful experiences.
This book focuses on the role of a voice and tone strategy as a part of a successful content strategy. Voice and Tone Strategy: Connecting with People through Content shows you how to create a voice and tone strategy that addresses customer needs and helps you build exceptional customer relationships.
Inside the Book
What is Voice and Tone?
A Simple Framework for Voice and Tone
Building Block 1: Needs and Desires
Building Block 2: Defining an Archetype and Attributes
Building Block 3: Crafting Principles to Guide Your Voice
Flex Voice and Tone
Building Block 4: The Power of Examples
Style and Structure
The Roll Out
Epilogue
References
Glossary
Index
About John Caldwell
John Caldwell is an established content design strategist in the field of software design, including software-as-a-service and marketing. Among his many accomplishments, he has helped teams at top companies craft and govern winning strategies for voice and tone across multiple products and platforms.
As the lead for content strategy at Intuit, he created and implemented a bold new strategy for voice that changed the game for TurboTax. John is a writing and innovation coach with more than 20 years of experience. In addition to user experience and content design, he has worked in magazine and broadcast journalism and continues to write on a wide array of topics, from tech to travel.
What are They Saying?
"I love the examples you give from both the real world and pop culture"
— Lee Engfer, editor and writer at Mayo Clinic.
"Caldwell's book with a specific framework and many examples will help you rethink how to connect most successfully."
— Janice (Ginny) Redish, review in STC Technical Communication, Vol. 67, No. 3, August 2020. Full review, courtesy of STC.
"Packed with useful examples and the author's personal experience at companies such as Intuit and Mint, this book has become a cornerstone in establishing voice and tone guidelines for my company. Highly recommended!"
— Chris Turner, Five star review on Amazon.com.
Book Extras