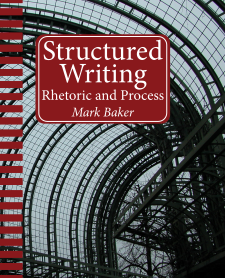 Structured Writing: Rhetoric and Process
by Mark Baker.
39.95 (print) $24.95 (Ebook).
Structured writing has never been more important or more confusing. We keep trying to do more and more with content, but we give ourselves less and less time to do it. Structured content can help keep your rhetoric on track and your processes efficient. But how does it do that and what is the relationship between rhetoric and process?
It is easy to get lost in sea of acronyms and buzz words: semantics, XML, metadata, DITA, structure, DocBook, hypertext, Markdown, topics, XSLT, reuse, LaTeX, silos, HTML. Structured Writing cuts through the noise, explaining what structured writing is (you have been doing it all along) and how you can use different structures to achieve different purposes. It focuses on how you can partition and manage the complexity of the content creation process using structured writing techniques to ensure that everything is handled by the person or process with the skills, time, and resources to handle it effectively.
Most importantly, this book shows you how the right structured writing techniques can improve the quality of your content and, at the same time, make your content processes more efficient without sacrificing quality for efficiency or vice versa. There are so many options available in the structured writing space today. This book will show you where each of them fits and help you choose the approach that is optimal for your content.
Inside the Book
Introduction: defines structured writing, the relationship between rhetoric and process, and the importance of partitioning complexity properly.
Structured Writing Domains: introduces four domains in structured writing: media, document, subject, and management, and shows how an understanding of those domains can help you build structures that support quality writing.
Process, Rhetoric, and Structure: describes how structure supports both your processes and rhetoric. It also delves into information architecture and the role of writers in creating content that meets your organizations needs.
Algorithms: explores the principal structured writing algorithms, including single sourcing, reuse, linking, generated content, active content, and publishing.
Structures: explores structures in depth, including blocks, wide structures, and composable structures. Also looks at metadata, terminology management, and conformance.
Language: a survey of languages currently used for structured writing, ranging from lightweight languages such as Markdown and reStructuredText to heavyweight languages such as DITA and DocBook. Then it looks at extending and constraining languages.
Management: looks at content management systems and explores how to support collaboration, avoid duplication, and audit your content.
Design: looks at the how to identify complexity and partition it appropriately as you design a system, and it discusses how to approach selecting the processes and tools required to support your organization's content needs.
About Mark Baker
Mark Baker is the author of Every Page is Page One: Topic-based Writing for Technical Communication and the Web as well as other books on content and content technologies and dozens of articles on technical communication, content strategy, and structured writing. He has worked as a technical writer, tech comm manager, director of communications, trainer, programmer, copywriter, and consultant and has spoken frequently at industry conferences. Mark has designed, built, and used multiple structured writing tools and systems, including the one used to write this book. He blogs at EveryPageIsPageOne.com and tweets as @mbakeranalecta. For more information, see analecta.com.
What are They Saying?
"Always enjoy your insightful and logical exegesis of structure at its very roots."
— Cruce Saunders, Founder, [A]
"It is probably the most important book on technical communication since Anne Gentle's Docs Like Code."
— Cherryleaf, full review at Cherryleaf.com
"As far as I know, no other book covers the subject in this depth."
— Mark Giffin, full review at MarkGiffin.com
Book Extras